Hotel La Terrasse du Voyageur
From MadaCamp
Hotel La Terrasse du Voyageur is a hotel, bar, restaurant and event location with a rooftop terrace overlooking the town areas where several busy market places in Diego-Suarez are located and far beyond. With it's 360° views, it's the best location in town from which visitors can enjoy both sunsets and sunrises.
The location is a popular social space among creative talents, writers, musicians as well as travellers including the type of tourists who prefer to experience Diégo-Suarez and Madagascar off the beaten track.
La Terrasse offers basic and comfortable single, double and family rooms over two floors at reasonable prices, some with air condition and some with ceiling fan and views over the city.
For further information, rates and reservations, contact: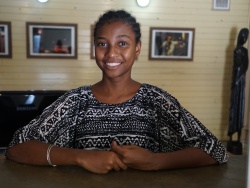 Hotel La Terrasse du Voyageur
At the crossing of rue Mozambique and Justin BEZARA
Tel: +261 (0)34 20 061 04 / +261 (0)34 20 061 06
Website: http://terrasseduvoyageur-hotel.com / Fascebook: https://www.facebook.com/terrassedie
View all Hotel La Terrasse du Voyageur photos