Paradisia
From MadaCamp
Le Paradisia, also known as Residence La Maison Blanche due to its similarities to The Whitehouse, is a hotel, restaurant and bar in Vohemar on the northeast coast of Madagascar.
The main building with the restaurant and terrace on the ground level has four rooms upstairs with balcony in addition to eight bungalows with double beds. All rooms have bathroom/WC, air-conditioning/fan and TV. The rooms in the main building are named Las Vegas, Los Angeles, Beverly Hills, New York. The hotel includes some decoration with American memorabilia and while the President of Maison Blanche is a Malagasy entrepreneur who also runs an import business and who knows how to manage a good team he prefers to liken himself to Obama rather than Donald Trump.
The popular bar and restaurant which can seat up to fifty guests has a TV-screen above the bar making it a regular meeting place for guests to watch live sporting events.
Additionally, a large roofed balcony area on the first floor can facilitate up to 100 guests to host workshops, conventions and private parties.
The hotel is not located directly in the centre of town but along a quite sandy road about 20 minutes walk or five minutes by tuk-tuk from the centre. More importantly, the endless beach of Vohemar with its beautiful sunrises is only a 5-minute walk away.
The restaurant is open everyday for lunch, breakfast and dinner and offer a varied menu with exceptional meals at very reasonable prices. Room prices range between 40,000 and 80,000 Ariary p/night. Laundry and ironing services are available on request.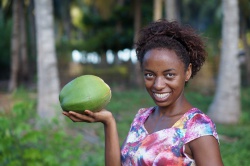 Hotel Restaurant Paradisia / Residence La Maison Blanche
Andragnavabe
Vohemar 209

Ms Mamy RAMANANTENASOA
Reservations and General Manager
Tel: +261 (0)32 50 219 57

Email: hotelvohemar@gmail.com

Given the high quality of food and friendly service at Maison Blanche, there is always big a risk that the service staff will make you want to stay longer than you planned!
View all Paradisia photos