Difference between revisions of "Prulab"
From MadaCamp
---
Revision as of 09:24, 26 March 2021
Prulab is a vanilla laboratory performing physico-chemical humidity and vanillin analysis of vanilla, which are important properties to measures of the overall quality of vanilla beans, vanilla cuts and powder products.
The laboratory was founded in 2021 by Olivier Ratsimbano, an entrepreneur from Antananarivo with a degree in natural sciences. Prulab is the first independent vanilla laboratory in the region offering fast and accurate analysis to exporters and other vanilla operators in the SAVA region to help them determine the quality and price for their products.
The time to perform an analysis takes approximately one day and the price for each of analysis sample is 80,000 Ariary which includes a certificate of vanillin and humidity contents.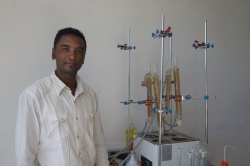 Prulab SAVA
Ambodisatrana
Sambava

Contact: Olivier Ratsimbano
Tel: +261 (0)34 12 729 72 / +261 (0)32 64 307 60
Email: ratsimbano@gmail.com
View all Prulab photos