Morondava
From MadaCamp
Morondava is a charming coastal town and capital of the Menabe region in south west Madagascar within the Tulear district. Morondova was once a centre of the Sakalava Kingdom and a popular stop-over for sailors. Nowadays the area is rich in sugar cane and rice farming and remains a popular stop-over but mainly by tourists seeking to experience the relatively remote regions of Madagascar as well as enjoy a few days on the beach.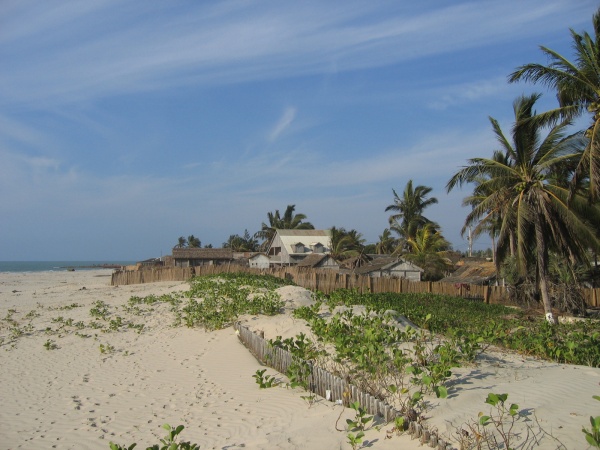 As the population has grown in the region the forests have also been gradually cut down, except the baobab trees which the locals has preserved for religious reasons. However, unfortunately deforestation continues in large parts including some of the remaining baobabs to make way for sugar cane plantations.
Morondava can be reached by a 700km drive from Antanarivo. However, the road conditions in the latter part of the journey, being the 120km between Miandrivazo and Malaimbandy are especially poor and can take six hours. The entire drive can take between 11 and 18 hours. As such, Morondava is best reached by plane. There are daily flights by Air Madagascar connecting Antanarivo and Tulear.

Nearby attractions include Tsingy de Bemaraha (150 km north), Kirindy Forest (40km northeast) and the Baobab Avenue (15km east). Some 70km south is Belo sur Mer
Taxi de la mer (sea taxi) twice weekly between Morondava and Belo sur Mer and takes around 2.5 hours. The price is 50,000 each way. Tickets can be booked at the office in the port or via Hatea Café on Nosy Kely (tel: +261 032 0469261).
Accommodation
Morondava offers plenty of accommodation alternatives, ranging from cheap backpacker rooms to comfortable beach bungalows. The hotels are either in the town or on Nosy Kely peninsula, a few minutes walk from the town centre.
Baobab Café
Tel: +261 9552012
Email: baobab@blueline.mg or baobabtours@blueline.mg
Website: www.baobabtour.mg or www.baobabtour.com
Chez Maggie
Tel: +261 9552347
Email: info@chezmaggie.com
Website: www.chezmaggie.com
Hôtel Les Bougainvilliers
Tel: +261 20 95 52163
Email: bol_nd@yahoo.fr
La Piroge (about 30km north of town in a small Makao fishing village across a river)
Tel: ++261 32 07 782 93
Email: piroguiers@yahoo.fr
Les Mantalys (near the airport)
Tel: +261 32 42 04 877
Email: hotelmantalys@yahoo.fr
Website: www.hotel-mantalys.com
Les Philaos (managed by same company as Hotel Central)
Tel: ++261 2095 520 81
Email: sica@wanadoo.mg
Morondava Beach
Tel: +261 2095 523 18
Email: mbeach@aic.fr
Website: www.hgi-mbeach.com
Le Reniala au Sable d'Or
Tel: +261 2095 520 89
Email: N/A
Trecicogne
Tel: +261 2095 520 69
Email: trecicogne@wanadoo.mg
Hotel Le Betalage
Tel: +261 9552732
Email: N/A
Cheval de Mer
Tel: N/A
Email: N/A
Zoom Hotel
Tel: +261 9592059
Email: N/A
Hôtel L'Oasis
Tel: +261 9552222
Email: vezahabe@dts.mg
Hôtel Central
Tel: N/A
Email: N/A